When Alejandro Bulgheroni and his wife, Bettina, discovered Garzón in 1999, they saw in it their "little Uruguayan Tuscany", and they had a dream, a family dream that has come true today: Agroland. Thus, surrounded by olive groves and vineyards, they started to design Bodega Garzón.
From energy efficiency to reduction in water consumption, from using low-emission local equipment to responsible construction waste management, from collecting rainwater to restoring biodiversity… These are some of the environmental strategies implemented in its design and construction.
Sustainable winery – a worldwide icon
Our new 19.050 m² (205,000 sq ft) winery received grapes for the first time from the 2014 harvest, thus inaugurating the first sustainable winery built outside North America in accordance with the stringent requirements set down by the United States Green Building Council (USGBC). LEED Certification (Leadership in Energy & Environmental Design) is a rating system developed by the USGBC which consists of a set of rules regarding strategic plans aimed at ensuring building sustainability.
This state-of-the-art architecture, built on natural terraces, is designed so that it allows the production to benefit from the gravity system. Add to this the cutting-edge technology and the outstanding technical equipment that produces top quality wines with strong identity and local flavour for domestic and export markets.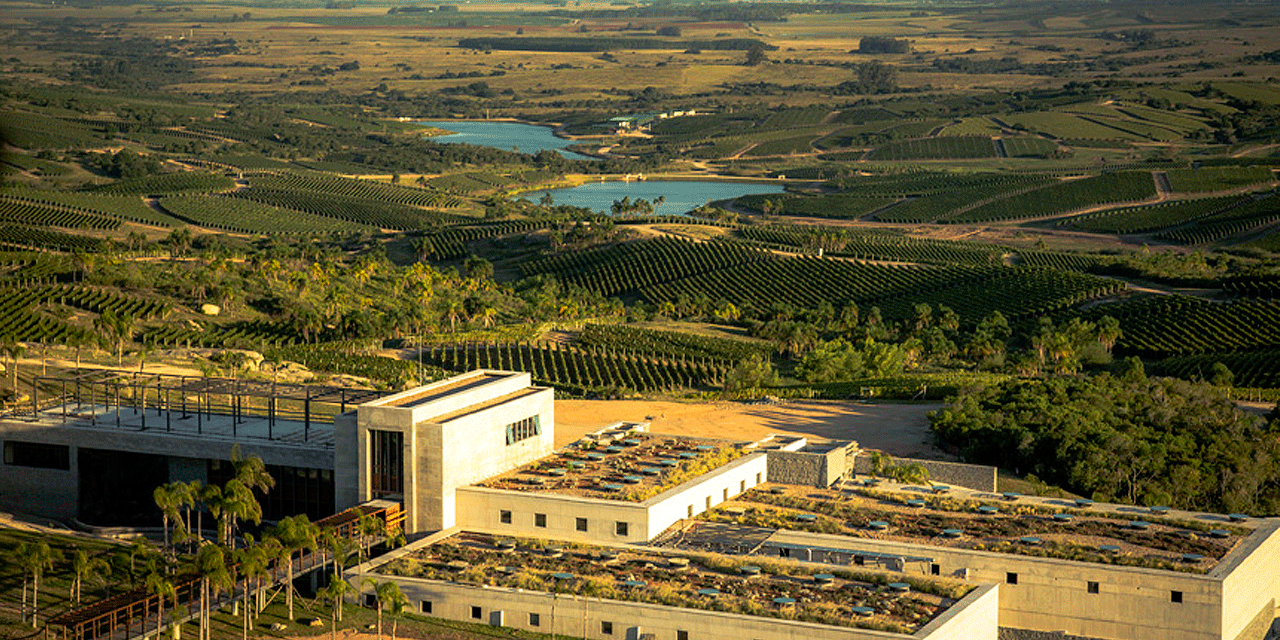 Built atop a rocky outcrop the winery will spend 40% less energy than other similar facilities thanks to the efficiency of the premises. Moreover, in situ production of wind and photovoltaic energy will be able to generate up to 40% of all energy needs.
Cutting-edge technology
At Bodega Garzón we take care of the grapes right after the harvest and from the very moment they enter the winery. Our grape sorting tables and the winery's special design for the production of wine through racking preserve the integrity and potential of the grape. This allows the wine to develop and reflect the genuine character of Garzón's terroir. At the same time, our grape  sorting tables allow us to select only the best grapes to be fermented. The temperature of the fermentation process is controlled by an underfloor heating system attached to each vat. External wine additives (such us commercial yeasts, enzymes, etc.) are avoided, thus favoring the growth of the native microbial flora that originates in our wines. The process concludes with careful operations regarding the floating cap of skins whose aim is to extract the color and tannins from the skin of the red grapes. Choosing 'live' containers contributes to the complexity of our wines. Hence we rely on untoasted French wood barrels and concrete vats, as they are the ideal containers to achieve perfect maturity. Concrete allows and favors the development and conservation of the native microbiology and microorganism, whereas wood enables the wine to breath, something indispensable to a proper cellar.
Localización
AGROLAND S.A. Ruta 9 Km. 175 – Garzón, Maldonado – Uruguay (+598) 4224 1759 | [email protected]