Montevideo is a city with lots of places to go. But it is also an ideal city for shopping and taking an unforgettable memory of this magical place. We recommend some traditional options, and some not so much for shopping in Montevideo.
 Shopping in Montevideo
There are several places for shopping in Montevideo. It depends on the product you are looking for and how much you are willing to spend. We leave you some tips.
 Mercado Agrícola
The Mercado Agrícola de Montevideo, also known as MAM, was reopened in 2013. Its architecture, which mixes modern elements with the past, provides the perfect environment for a family shopping day. In the MAM you will find a great variety of shops related to gastronomy, typical local products, clothing, crafts, among others. You can also find Albariño Reserva or Cabernet Franc, exclusive wines made by Bodega Garzón. Enjoy this market every day.
Tristán Narvaja Fair
The Tristan Narvaja fair is a classic of Montevideo and the tourist shopping par excellence. Every Sunday the center of the city is transformed by this fair, which is held every week on the street with the same name. For tens of years, hundreds of merchants arrive at dawn to set up their stalls selling food, fruits, vegetables, various ingredients, clothing, even more extravagant things like antiques of all kinds, books, vinyl records in the collection , and even farm animals like chickens.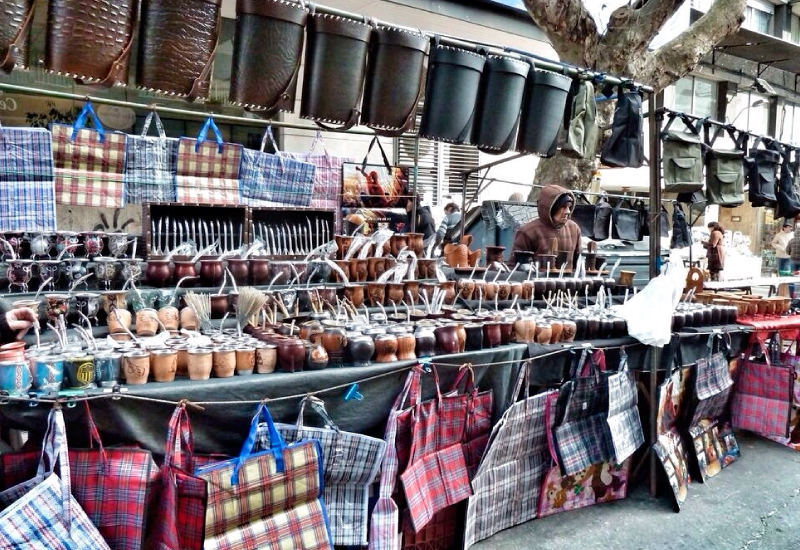 This fair has a lot of people movement every week, either by people who come to buy taking advantage of prices, or curious who see dazzled as a part of the old city is sold there, represented by old auto parts, old TVs, collection pieces, old plate, among others.
An ideal option to know another side of the city.
We invite you to know the most typical dances of Uruguay.