Uruguay is a country of traditions. We share some typical dances of Uruguay that are part of the rich culture of this country. Have you danced any of them? Surely yes.
Typical dances
The Pericón
This dance is originally from Uruguay, and today is danced both in our country and in some regions of Argentina. It was created by the Uruguayan musician Gerardo Grasso and released in Montevideo, in the School of Arts and Crafts, on August 3, 1887, according to documents in the National Library of Uruguay.
The dance consists of an interdependent couples, usually 8. In its beginnings, this traditional dance, was a variant of the cielito, like the Media Cane. Some authors affirm that this variant, was danced with the help of a bastonero, which received the name of "pericón", since he was the one in charge to dictate the figures, to the voice of aura ("now"). It is for this reason that to the variant of the dance, it was called the cielito apericonado. With the passage of time this variant began to take importance, distinguishing itself from that one as independent dance, acquiring the name of Pericón.
In its beginnings, only four figures called, by their order, demand or mirror, last or merry, chain and sky, all realized with the basic passage that begins with the right foot. Subsequently, new figures and accessories were added. The best known of these aggregates was the "pavilion", where the couples, taken from the arm, form a circle and following the rhythm of the music, each couple, with their free hands, extends a handkerchief above the heads, interspersing the Blue and white colors of the national flag (Uruguay).
The Candombe
Candomble is the native rhythm of Uruguay par excellence. Their rhythm, confirmed by the three main drums, chico, piano and peal, make a powerful sound that comes from the roots of the black slave population that arrived at the port of Montevideo and settled in big constructions of the city called 'conventillos'.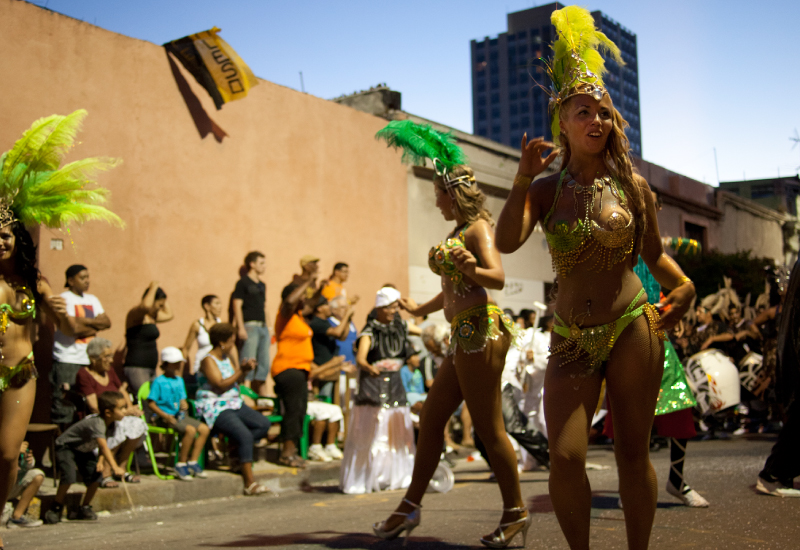 Nowadays the candombe can be heard in the majority of the neighborhoods of the city, being the most characteristic the touches of the Barrio Sur, Palermo and Cordón. The comparsa, composed of approximately 40 people, leads a row of dancers who move to the rhythm of the drums and make up one of the most typical dances of Uruguay.  In addition to dancers and drummers, a candombe comparsa also has in its ranks the 'gramillero', a witch from the African tribe that healed with weeds and "grains". His wardrobe includes a beard, cane, and weed bag. Mama Vieja, who was the housekeeper and performs a traditional dance. Her wardrobe never misses the fan and umbrella. The Escobero, old "Bastonero" of the tribe. He wears a leather apron with mirrors and jingle bells and parades juggling with the broom. The vedette, dancer, who was not present from the beginning of candombe Uruguay; over the years, she became one of the main characters.