Discover what the terroir is by accompanying us through the vineyards of Bodega Garzón and discovering their particular terroir.
What is terroir in wine?
First of all we must clarify that the term "terroir" is French origin and is equivalent to the term terroir in Spanish, but it is a word widely used and known in the wine world. It is a space that is defined through geographic or geological factors, and generally refers to the place where there is a vine plantation for winemaking purposes, that is the elaboration of wines.
Each terroir can have its particularities according to the region in which it is found, climate, soils, exposure to the sun, height of the terrain, biodiversity that surrounds it, among others. All these factors will affect the maturation of the fruit and therefore, the quality of the wine that is elaborated.
In Uruguay we can find several terroir located in the departments of Colonia, Canelones, Montevideo and Maldonado. Also to the north of the country we can find some terroir in Rivera or Salto.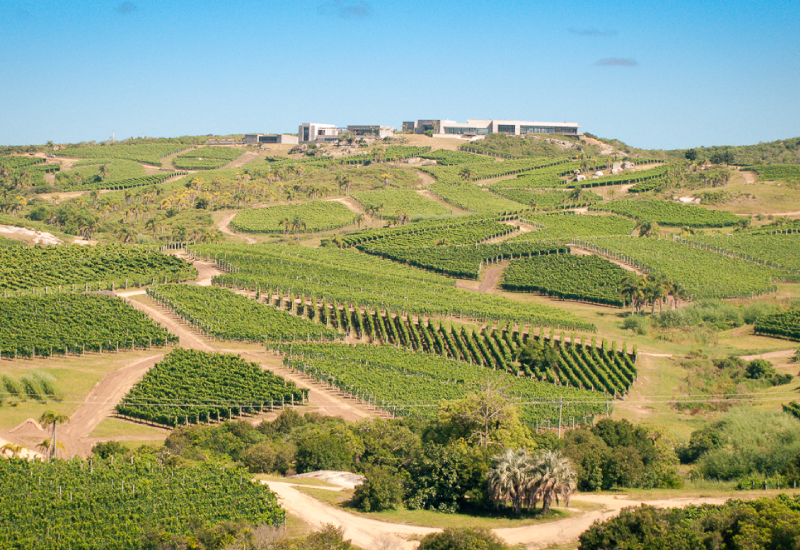 Discover Bodega Garzón's terroir
Bodega Garzón's terroir is located in a special environment, and has been a pioneer in the production of premium wines in eastern Uruguay.
Many times we hear that great wines are born from great terroir. And this is a big truth. Without good fruit it's impossible to make premium wines. The vineyards of Bodega Garzón are in a unique place, near Punta del Este, the most important beach city in Latin America and José Ignacio, a local tourist paradise.
Ten years ago Italian winemaker Alberto Antonini came to the area at the request of engineer Alejandro Bulgheroni to see if it was possible to produce premium wines in the area. After an intense period of study, the answer was yes Antonini and began planting the first vineyards that make up what is now a unique terroir. More than 200 hectares of different varieties grow with the constant influence of the breeze of the Atlantic Ocean, which is only 18 kilometers away and which contributes to give the wines a great freshness and minerality.
The geology of the area Garzon is also a key factor, since it belongs to what is known as Crystalline Basement of over 2,500 million years ago. This type of stone eventually grinds and generates a fantastic soil of very fine rock with excellent drainage, many minerals, that the roots of the vines absorb; giving the wine minerality, vibrancy, complexity and elegance.
Balasto wine of Bodega Garzón is a very charming concept related to Garzón's terroir and explained very easy, a clear and strong message for all lovers of premium wines.
Bodega Garzón's wines range is high-end due to the characteristics of its terroir. Among them we can highlight the Tannat Single Vineyard. Pronounced slopes and thin soils with excellent drainage allow, in this cold climate vineyard, the distinguished expression of a balanced Tannat that has been awarded worlwide.