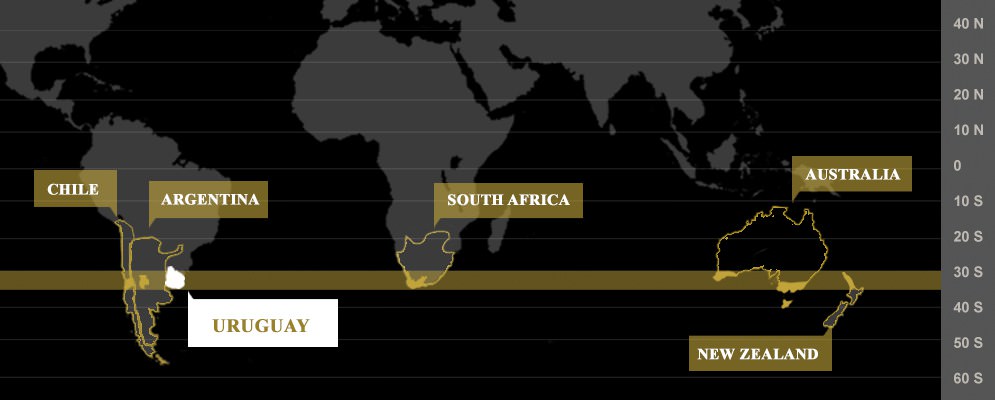 Uruguay: land of wine and astonishing landscapes
Located between Brazil and Argentina, Uruguay stands as one of the most important countries of the Latin American wine world. Vine growing all over the land benefits from the country's location — at the same latitude as the wine growing regions of Argentina, Chile, South Africa, Australia and New Zealand — and mild weather. Most Uruguayan wineries are situated inland or on the coast, and their production grows every year.
Today the wine industry is present in 15 out of the 19 departments of the country. More than 90 million litres are produced from 9,000 hectares of vineyards where family work prevails and focuses on red grapes such as Tannat, Merlot, Cabernet and Malbec, and white grapes such as Sauvignon, Chardonnay, Semillon or Riesling, among others. These varietals are cultivated on vast clay soils and stony ground surrounded by exotic and astonishing landscapes characterized by the influence of Atlantic breezes.
Tannat: the symbol of the Uruguayan wine
Uruguay has achieved international renown thanks to Tannat, a varietal that has become the country's most emblematic by virtue of its unique velvety flavor and its countless international awards. The production of Tannat is richer in nuances than that of the grape's native regions, in southeast France. Moreover, it displays local particularities that render it unequalled. Out of this identity the world took interest in the Uruguayan wines, promising, peerless and with deep local character.
Tradition and culture
The adaptability and meticulous nature of Uruguay's wine-producers have characterized this traditional and deeply-rooted profession. From generation to generation, wineries have improved it, transforming the first vineyards developed by Europeans into a culture that identifies the region and of which the region is proud. Each glass of Uruguayan wine contains centuries of history, secrets and evolution. The wine has become part of Uruguay's history, tradition and economy.
In the last few years, the country has become one of the most interesting destinations for wine tourism, a place to enjoy the quality of its native wines and vineyards surrounded by an unconventional landscape. But Uruguay is more than its wine; it's a postcard, unforgettable due to the heavenly beaches and the idyllic hills it features; it's gastronomy, defined by Charrúa cuisine; and it's a genuine culture, influenced by a European heritage.
Uruguayan friendliness awaits you, yerba mate tea in hand, to show you this land of unique wines, astonishing landscapes and once-in-a-lifetime experiences. We are waiting for you at Bodega Garzón, near Punta del Este, where nature and luxury combine to make our wines.